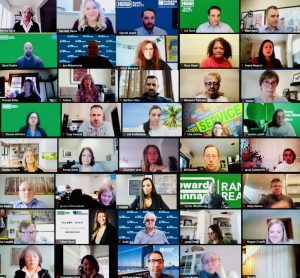 Nanuet NY:  Although this year was certainly different than previous years, Howard Hanna | Rand Realty held its annual State of the Company event via Zoom along with over 500+ agents joining via Zoom and FB Live on January 20, 2021. 
The meeting was led by founder Marsha Rand, CEO Matt Rand, CCO Joe Rand, and President of Hudson United Daniel Rand.
"2020 was one of our best years ever, I'm so proud of the work done by our team who overcame the challenges of this year and not only thrived but positioned us as an industry leader; I'm so excited for 2021." Matt Rand CEO Howard Hanna | Rand Realty.
This year, the State of the Company hosted 2 special guests; Tom Ferry, who provided some great projections for 2021, and President of Howard Hanna Real Estate Services, Howard W. "Hobby" Hanna, who introduced two new programs that Howard Hanna | Rand Realty will be implementing in the first quarter of 2021; Money-Back Guaranteed and the Income Advantage.
"The company projections for 2021 are strong. We will continue with an aggressive marketing strategy combined with all our existing successful campaigns, highlighting our new competitive advantage with our membership in the Luxury Portfolio International®, part of our new association with the Leading Real Estate Companies of the World."- Matt Rand, CEO Howard Hanna | Rand Realty
The State of the Company included a recap of our affiliate company Hudson United presented by President Daniel Rand, which also had their best year ever.
The presentation concluded with a Real Estate Market report, created every quarter by Howard Hanna | Rand Realty CCO Joe Rand, which predicted a huge first quarter, a strong second quarter for 2021, and finishing above 2020.
"Every year is a challenge to be better than we were the year before, and we keep looking forward to that"- Marsha Rand Founder of Howard Hanna | Rand Realty
About Howard Hanna | Rand Realty: Howard Hanna Rand Realty has more than 1,000 residential real estate sales associates serving the NY, NJ and CT suburbs of New York City. It's 28 offices serve Bergen County, Passaic County, Hudson County, Morris County, and Essex County in New Jersey, as well as Westchester County, Rockland County, Orange County, Dutchess County, Ulster County, and the Bronx in New York.  Rand also owns and operates Rand Commercial, a commercial real estate brokerage and Hudson United Home Services, which provides residential mortgage lending, title services, and both personal and commercial insurance. For more information, visit https://randrealty.com.
About Howard Hanna: Howard Hanna Real Estate Services is the #1 family-owned and -operated independent broker in the U.S.A. The full-service real estate company has 325 real estate, mortgage, insurance, title and escrow service offices across 10 states, including Allen Tate Realtors in the Carolinas, with more than 11,000 sales associates and staff, including many of the industry's top-producing real estate agents. For more information, visit www.HowardHanna.com