Nanuet NY: Howard Hanna | Rand Realty, along with Hudson United and Rand Commercial celebrated its Annual Awards Gala Ceremony on Thursday, February 11th. More than 500 agents and company employees attended the Virtual party, on Zoom and Facebook Live, where the top agents of 2020 were honored.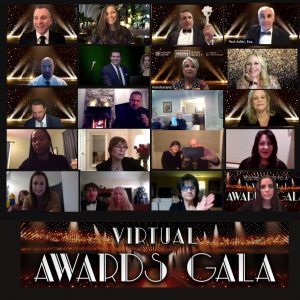 The team at Howard Hanna | Rand Realty showed once again that company culture is what drives us.
"This is one of our company's most important nights, and we look forward to it every year. We are thrilled we had more than 500 agents, who joined us on Zoom to celebrate our top producers' success. We are proud of our Howard Hanna | Rand Realty team," said Matt Rand, CEO at Howard Hanna Rand Realty.
This year was even more special to honor the top producers, who not only overcame a year with challenges but also excelled with creativity, hard work, and incredible dedication making 2020 one of the best years ever.
Rand honored over 300 of their agents, a new record of award recipients. Rand also inducted Al Vanacoro into Rand Legends, the highest honor given to a Howard Hanna | Rand Realty agent.
"I am so proud of everybody's achievements of 2020. We all had a fear of the uncertainties that this year brought to all of us, our business, our families, and we had to wind up overcoming that, we persevered, and we came out to the other end."-said Marsha Rand, Founder of Howard Hanna | Rand Realty.
Rand Realty, who joined Howard Hanna in October of 2020, had special guests Helen Hanna Casey and Hoddy Hanna join in the festivities.
"On behalf of Howard Hanna, we congratulate our award recipients on being part of the best of America's Real Estate; 2020 is the year that we came together in a new partnership to create the #1 Brokerage in the U.S. with 341 offices and 11,000 agents across the entire east coast."
Helen Hanna Casey Howard Hanna Rand Realty Services
"Our combined strengths help each agent achieve and exceed their personal best; together, we have become the #1 family-owned brokerage in the U.S. #4brokerage in all the United States, #3 in core services provider, #3 in mortgage closings, #1 in homeowners insurance policies," said Hoddy Hanna President of Howard Hanna Real Estate Services.
About Howard Hanna | Rand Realty: Howard Hanna Rand Realty has more than 1,000 residential real estate sales associates serving the NY, NJ and CT suburbs of New York City. Its 28 offices serve Bergen County, Passaic County, Hudson County, Morris County, and Essex County in New Jersey, as well as Westchester County, Rockland County, Orange County, Dutchess County, Ulster County, and the Bronx in New York. Rand also owns and operates Rand Commercial, a commercial real estate brokerage and Hudson United Home Services, which provides residential mortgage lending, title services, and both personal and commercial insurance. For more information, visit https://randrealty.com.
About Howard Hanna: Howard Hanna Real Estate Services is the #1 family-owned and -operated independent broker in the U.S.A. The full-service real estate company has 325 real estate, mortgage, insurance, title and escrow service offices across 10 states, including Allen Tate Realtors in the Carolinas, with more than 11,000 sales associates and staff, including many of the industry's top-producing real estate agents. For more information, visit www.HowardHanna.com