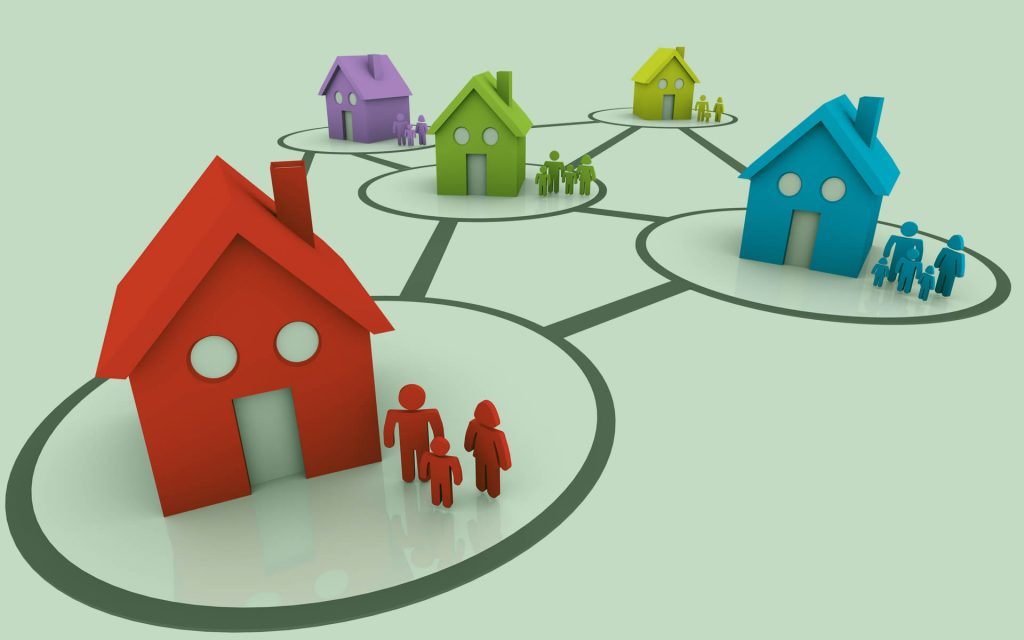 Although renting a home is not nearly as complicated as buying a home, it's still important for you to have a full understanding of the rental process so that you can be prepared for what you're likely to experience. The process starts with a set of forms and agreements that you need to complete, and ends with the signing of your new lease.
In order for you to have the best experience possible, it's important for you to understand the rental process, everything from the initial documentation you need to complete, to the search process, and finally to signing your new lease. We've identified five steps in the process:
Step One: Signing Rental Documentation
When you meet with your Better Homes and Gardens Rand Realty agent, you'll be asked to complete a set of legal disclosures and forms to get you started in the process. These forms include:
New York State Agency Disclosure. This form is required by New York State law to ensure that you understand that we will be representing you as your fiduciary tenant's agent, looking out for your best interests.
Disclosure Agreement. We provide this form so that you understand the legal ramifications of renting a home, and the limits of our representation of you.
Representation Agreement. This form is required by the REALTOR Code of Ethics to ensure that you understand the scope of our representation of your interests.
We recognize that some companies will take out tenants to look at rentals without completing the necessary paperwork, but that's not the way we run our business. Renting a home is a significant decision with legal obligations and rights, and you deserve a professional approach for helping you find your new home. If other companies do not require documentation, that's a good sign that you're not likely to have a professional experience with them.
Step Two: Fill out Your Rental Application
Once we have completed the legal disclosures and established our relationship with you, we now need you to fill out a rental application and credit check authorization. The rental application is a standard form that contains all the information that most landlords will require before considering an offer to lease their property, and will be provided to them as part of an offer to rent. Similarly, the credit check authorization is necessary so that landlords can be assured that you are a reasonable credit risk. Most landlords will not rent to prospective tenants who have not completed a rental application and credit check.
Step Three: Search for your Rental
Once you have your documentation completed, you need to communicate all your needs, goals, and wants for your rental to your agent, so we can narrow down the inventory to show you only what might actually interest you. In discussing your needs with your agent, you should consider the following:
How much can you afford? The basic guideline is that you should dedicate about 25-30% of your monthly gross income (before taxes, social security, other recurring debts) on your monthly rent. If you want to start saving to buy a home, you can rent under your means and put the savings away for a down payment. And if you want to stretch a little for a perfect rental home, you can try to do that, but your landlord might be cautious about renting to someone who is spending more than 30% of income on housing.
How long do you plan on staying there? Most tenants prefer a one-year lease term, because one of the reasons they are renting is to retain flexibility and mobility. But if you plan on staying longer, you can propose a multi-year lease. Most landlords are open to longer-term leases.
Where do you want to live? Renting a home is about becoming part of a community (and a school district, if that's important), so you need to decide what town or village you wish to live in. Most areas of our region provide for rental housing, so you should have enough inventory to choose from. But you should educate yourself about the community choices you have, and communicate those preferences to your agent.
What type of home? Most tenants rent a condominium or apartment unit, but in today's rental market you'll find many options for single-family homes. The single-family homes are more expensive, and might require more maintenance, but they do provide more room and a home-like feel.
Do you have any special needs? If you have specific needs for housing, such as bedroom needs, pets, mobility issues, or anything else that might be unusual, you should make sure your agent knows about it so that we can provide you options that meet those needs.
Your agent should ask you these questions when you meet, but you should be proactive and engaged in making sure you communicate all your needs so that we can better service you.
Step Four: Shopping for a New Home
The next step is the fun part – shopping for a new home. Your agent should provide you with a comprehensive list of all rental properties that meet your price range criteria and your particular needs. Now it's just a matter of going to actually view the properties.
Here are some guidelines for viewing potential rental properties:
Does the current tenant express any opinion on the property, or of the landlord?
Is there adequate parking for your needs?
Is the condition of the property suitable?
Is the property convenient for your commute, shopping needs, or school needs?
Will you need additional or new furniture for the new home, and can you fit your current furniture in the room layouts?
What do you think of the neighborhood?
If it's a complex, what do you think of the layout of the complex, the other tenants, and what it would be like to live there?
Ultimately, deciding where you want to live is an intensely personal choice. Your agent is there to assist you and answer your questions, but the decision is up to you.
Moreover, you can do a lot of searching on your own. Although your agent should be providing you with a comprehensive list of available properties, you can always register with RandRentals.com to view properties on your own. The site features include:
Client registration, so that you can save properties on a "wish list."
Comprehensive search ability to look for rentals by area and by a narrow price range suitable for rentals.
Community information for all local areas.
Full pictures and descriptions of all rental properties available.
Mapping of all properties.
You can always find potential properties on your own, then email them to your agent to arrange a showing. As always, the more engaged in the process you are, the better an experience you'll have.
Step Five: Signing a Lease
Finally, once you have identified the right new home to rent, you'll need to make an application to the landlord and sign a lease. Before you sign that new lease, though, you should make sure that you and your agent have done some basic due diligence on the property and the landlord:
Have you inspected the property?
You don't need a formal home inspection, although for a long-term lease we recommend investing in a thorough inspection to ensure that your tenancy will not be subject to vermin infestations or structural and appliance breakdowns. Even without a formal inspection, you should check electrical outlets, flush all the toilets, make sure the appliances work, and run the hot water in the showers to check temperature and water pressure.
Have you spoken to other tenants?
If you've had the opportunity to meet the current tenant, you might ask about their rental experience and their relationship with the landlord. Or you might be able to meet other tenants in the complex, or other tenants of that individual landlord. Just keep in mind that opinions by tenants can be skewed by their particular experience, so issues they have might be more their own rather than the landlord's.
Is the landlord reliable?
Most people think of reliability issues in leases as involving a tenant who might default. But it's a good idea to check whether the landlord seems like she is solvent and able to maintain the property, simply because if the landlord ends up in default on her own obligations to her bank, she might get foreclosed on. A foreclosure would terminate your existing lease, and leave you without any right to occupy the property. One way to ensure that your landlord is solvent is to take advantage of Better Homes and Gardens Rand Realty's affiliate services program. Our title company, Hudson Abstract Services, can do a simple lien search on the property to determine whether the landlord is currently facing foreclosure. We provide that service as a complimentary service to clients who obtain renter's insurance from our affiliate Hudson Group Insurance.
Finally, if you are satisfied that this is the right place for you, then it's time to sign the lease. Most likely, your landlord will provide you with a form lease that can be purchased online or at office supply stores, so you will know that the terms of that lease are fairly standard. If you want to know more about the common terms in a residential lease, make sure to read Understanding Your Lease, which explains all the basic terms and what to look for.
Getting Renter's Insurance and a Free Lien Search
Your landlord has insurance, and so should you. If your rental property burns down, your landlord has coverage to protect her investment. But if you lose everything you own, you're generally not covered unless you get something called "Renter's Insurance." Renter's Insurance is a necessity for anyone renting or subletting a home or apartment. Whether you live in a single family home, duplex, townhome, condo, loft, studio or apartment, you should get renter's insurance to protect your belongings and your liability. For less than a dollar a day, a renter's insurance policy will cover all of your property at its full replacement cost.
Even better, if you get renter's insurance from our affiliate Hudson Group Insurance, we will provide you with a free lien search on your property to ensure that your landlord is not facing imminent foreclosure that would terminate your lease after you move in. That's a free service we provide to all Hudson Group Insurance Clients.
If you're interested in getting Renter's Insurance, just call 845-215-0173