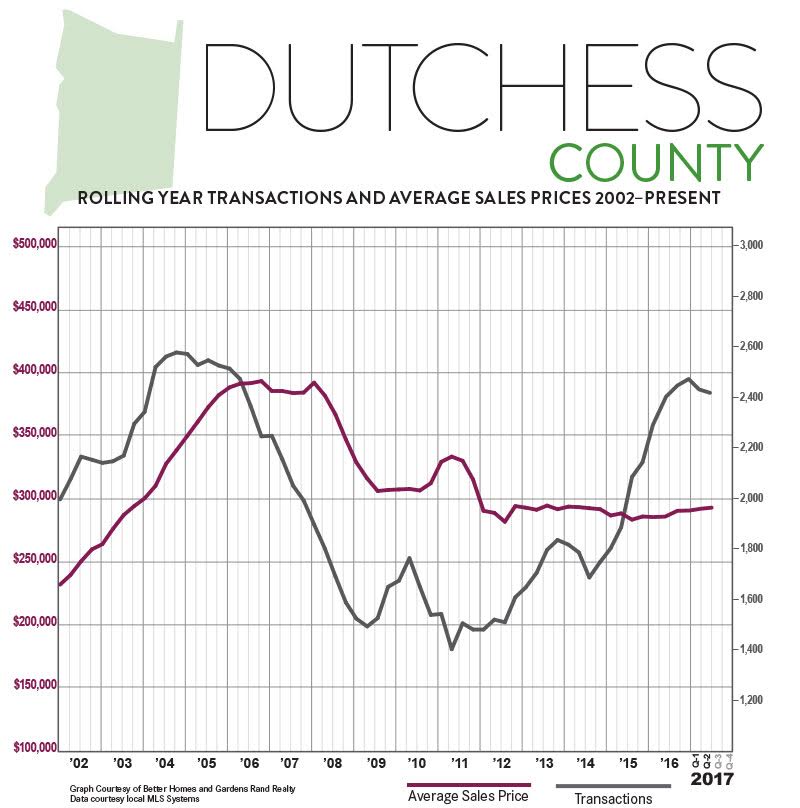 The Dutchess County housing market showed clear signs of an emerging seller's market in the second quarter of 2017, with the first meaningful signs of price appreciation in years.
Sales. Dutchess sales were down a tick for the quarter, probably a reflection of falling inventory in the market. For the rolling year, sales are still up a tick, but Dutchess definitely needs some "fuel for the fire" to accommodate strong buyer demand.
Prices. Home prices showed the first signs of life in a long time, with pricing up across the board: rising almost 5% on average, 3% at the median, and over 8% in the price-per-square foot. We can see the same story in the rolling year numbers, indicating that Dutchess is moving into a sustained seller's market.
Negotiability. Dutchess inventory declined sharply in the second quarter, down 51% from last year. This might be partly caused by a change in the way we are measuring Dutchess inventory, so we don't know that the percentage change is reliable. But the prevailing months of inventory at 7.5 months does support the idea that we're moving into a seller's market.
Condominiums. The condo market was up sharply after a slow start to the year, with sales up almost 52% from the second quarter of last year. Similarly, prices were way up for the quarter, with meaningful appreciation for the rolling year. The condo market is in great shape right now.
Going forward, we still believe that the Dutchess market will have a strong summer. With tightening inventory, a stable economy, near-historically-low interest rates, and homes still priced at appealing 2003-04 levels, Dutchess is likely to see meaningful price appreciation through the end of the year.
To learn more about Better Homes and Gardens Real Estate Rand Realty, visit their website and Facebook page, and make sure to "Like" their page. You can also follow them on Twitter.