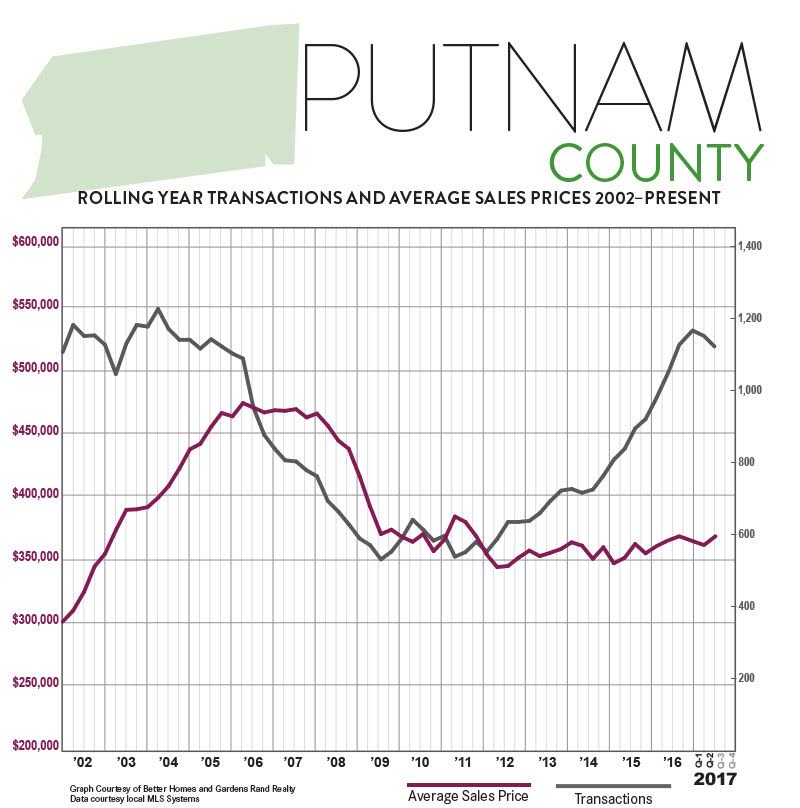 The Putnam County housing market showed the clear signs of constricted inventory levels, with a slowdown in sales coupled with a spike in pricing.
Sales. Putnam single-family home sales were down over 12% for the quarter, the second straight quarter of a significant decline in transactions. After over five years of steadily increasing sales, Putnam is now seeing the impact of a lack of inventory, with sales now flat for the rolling year.
Prices. The lack of inventory is also having its impact on pricing, which was up across the board: rising over 6% on average, almost 10% at the median, and almost 2% in the price-per-square foot. For the year, the pricing results are more mixed, with the average down just a tick, the median up a tick, and the price-per-square-foot flat. We have been expecting meaningful appreciation in Putnam for some time now, and still believe that low levels of inventory and stable demand will continue to drive prices up this year.
Inventory. Inventory continued to tighten, falling 23% and now down to the six-month level that usually denotes a tightening seller's market. This lack of available homes is what's been restricting sales, since we don't have enough "fuel for the fire" to keep the market going. But it's also driving prices up, as buyers chase and compete for the limited inventory that's available.
Negotiability. The negotiability indicators support the idea that a seller's market is emerging, with the listing retention rate up just a tick and the days-on-market continuing to fall. This is exactly what we would expect in a strengthening seller's market — homes selling more quickly and for closer to the asking price.
Condos. The impact of low inventory on the condo market was even more severe, with sales down almost 18%. In this case, though, prices also fell, dropping over 10% on average and over 13% in the median. The Putnam condo market is very thin, though, with only a few dozen sales, so we try not to read too much into one quarter's worth of data.
Going forward, we believe that Putnam is poised for a strong 2017, especially if some new inventory comes onto the market to satiate the available demand. The fundamentals of the market are tremendous: inventory is low, rates are near historic lows, and prices are still at attractive 2004-05 levels.
To learn more about Better Homes and Gardens Real Estate Rand Realty, visit their website and Facebook page, and make sure to "Like" their page. You can also follow them on Twitter.