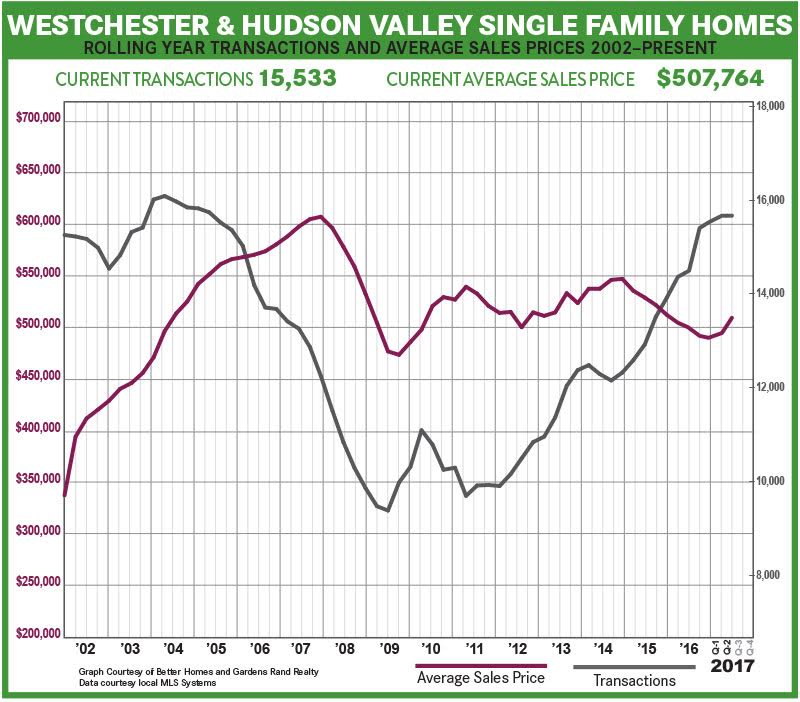 The housing market in Westchester and the Hudson Valley continued to show signs of meaningful price appreciation in the second quarter of 2017, with prices up in every county in the region. With inventory rates dropping, and demand strong, we expect this trend to continue through a robust Summer market and through the rest of 2017.
Inventory throughout the region continues to drop. Regional inventory was down almost 18%, and is now down to 7.1 months — right at the level that the industry considers a "balanced" market. But many of the individual counties in the region are now down around six months, moving into "seller's market" territory.
The lack of inventory continues to stifle sales growth. Regional sales were down just a tick compared to the second quarter of last year, just barely breaking a 10-quarter streak of year-on-year sales growth. We noted in our last report that the pace of growth was slowing. Now, it has stalled, at least until we get more "fuel for the fire." All that said, buyer demand is as strong as we've seen in over 10 years, with regional sales up 5% for the year and reaching the highest 12-month sales total since the height of the last seller's market in 2005.
These inventory levels are starting to drive meaningful price appreciation. The regional average sales price was up over 6% for the quarter, following a similar 7% increase in the first quarter. After several years of slow declines, prices are now up over 1% for the rolling year. That may not seem like much, but it's a sign of things to come. Indeed, average prices were up in every county in the region, rising over 7% in Westchester, over 6% in Putnam, over 1% in Rockland, 9% in Orange, and almost 5% in Dutchess. We should not be surprised — sales have been going up year after year, and it was only a matter of time before this type of demand drove some meaningful price appreciation.
Going forward, we expect that prices will continue to appreciate through the rest of the year. Demand is strong, bolstered by near-historically-low interest rates, prices that are still near 2003-04 levels (without controlling for inflation), a generally strong economy, and sharply declining inventory. We will need fresh new listings to drive more sales growth, but we expect that we will continue to see price appreciation through a robust Summer market and throughout 2017.
To learn more about Better Homes and Gardens Real Estate Rand Realty, visit their website and Facebook page, and make sure to "Like" their page. You can also follow them on Twitter.