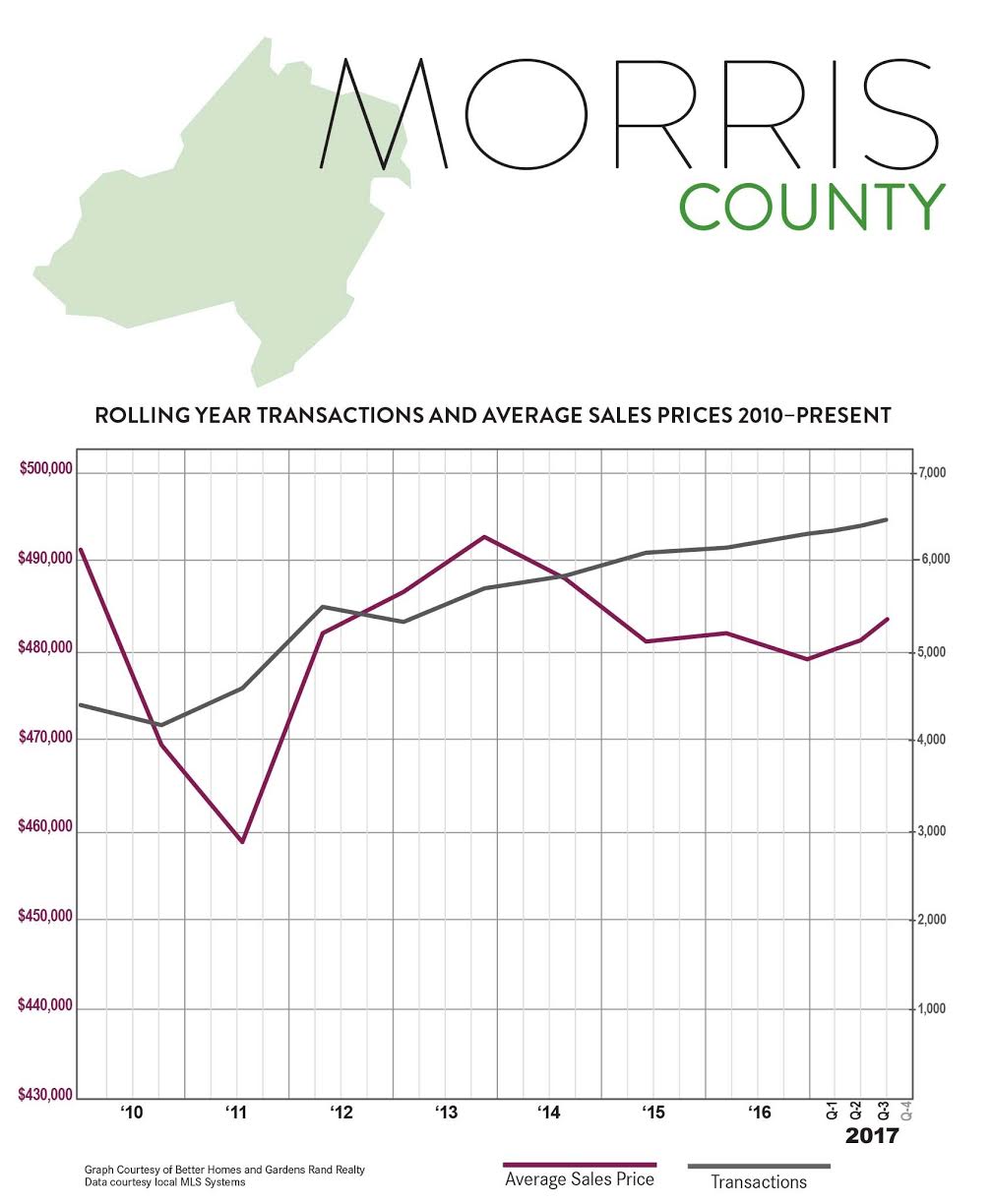 Prices in the Morris County housing market showed more signs of life in the third quarter of 2017, even while low levels of inventory continued to stifle sales growth.
Sales. Morris County sales were up just a tick, continuing a streak in which year‑on‑year sales have now gone up for 12 straight quarters, three full years of sustained buyer demand. For the year, sales were up over 5%, and are now up over 65% from the bottom of the market in 2011.
Prices. These sustained levels of buyer demand are finally having some modest impact on pricing. Continuing a trend that started this year, prices were up again, this time by about 2% on average and 3% at the median. And we are starting to see long‑term price appreciation, with the rolling year average price up 1% and the median rising over 2%. Sustained levels of buyer demand coupled with falling inventory is likely to drive pricing up through the rest of the year.
Inventory. Morris inventory fell again, dropping almost 30% from last year's third quarter and now down to just under six months' worth of inventory. We measure "months of inventory" by calculating the number of months it would take to sell all the available homes at the current rate of absorption, and generally consider anything below six months to signal a seller's market that would normally drive prices up. So the fact that Morris inventory is now at that six‑month mark indicates that we could be in for some meaningful price appreciation throughout 2018.
Negotiability. The negotiability indicators showed that sellers are continuing to gain negotiating leverage with buyers. The days‑on‑market indicator was down by another 9 days, falling almost 8%, indicating that homes were selling more quickly. And the listing price retention rate continues to rise, now up to just over 98% for the quarter, signaling that sellers are having more success getting buyers to meet their asking prices.
Going forward, we expect that Morris County's sales activity and low levels of inventory will continue to have a meaningful impact on pricing. With homes still at historically affordable prices, interest rates low, and a generally improving economy, we believe that Morris will have a strong fall market leading to a robust 2018.
To learn more about Better Homes and Gardens Real Estate Rand Realty, visit their website and Facebook page, and make sure to "Like" their page. You can also follow them on Twitter.