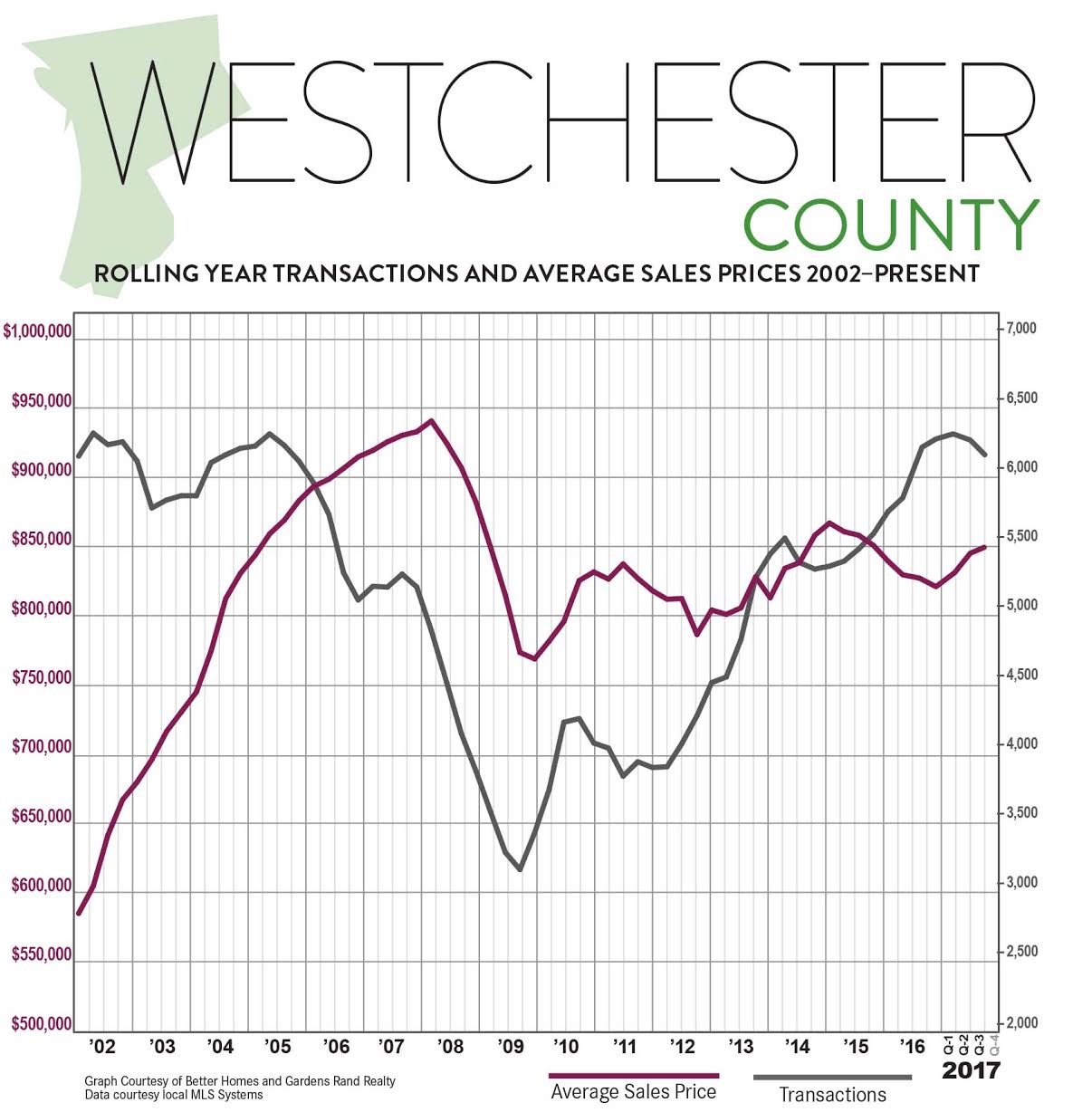 Prices in the Westchester housing market rose again in the third quarter of 2017, even while a lack of inventory suppressed sales growth.
Sales. Home sales were down in the third quarter, falling about 5% from the third quarter of last year and marking the second straight quarter of declining sales in a row. This is almost certainly a lack of inventory stifling sales growth, though, rather than a decline in buyer demand. Still, though, sales are at levels we have not seen in over ten years, almost doubling from the bottom of the market at the end of 2009.
Prices. Low levels of inventory had some impact on prices, up 1% on average, 2% at the median, and down a tick in the price‑per‑square foot. Over the longer‑term, we're starting to see some meaningful price appreciation, with average prices up almost 4%, and the median up almost 3%, for the rolling year.
Negotiability. The negotiability indicators continue to signal the emergence of the seller's market. Inventory declined again, falling over 5% and now at the lowest level of inventory we have had in Westchester in over 12 years, since the height of the last seller's market. Similarly, the listing retention rate was up again, and is now at almost 99% of the last listed price. And the days‑on‑market fell sharply ‑‑ homes are now selling in Westchester within about four months from listing to closing.
Condos and Coops. The condo and coop market was even more robust. Sales of coops were up almost 10%, and condo sales were up just a tick. But that shortage of available condos and coops is having its expected impact on pricing, which was up sharply across the board for both property types in the quarter and for the rolling year.
Going forward, we expect that Westchester is going to continue to see meaningful price appreciation through the rest of the year, especially as inventory continues to tighten. With pricing near 2004‑05 levels and interest rates near historic lows, we believe that the market will continue to thrive in the fall market.
To learn more about Better Homes and Gardens Real Estate Rand Realty, visit their website and Facebook page, and make sure to "Like" their page. You can also follow them on Twitter.