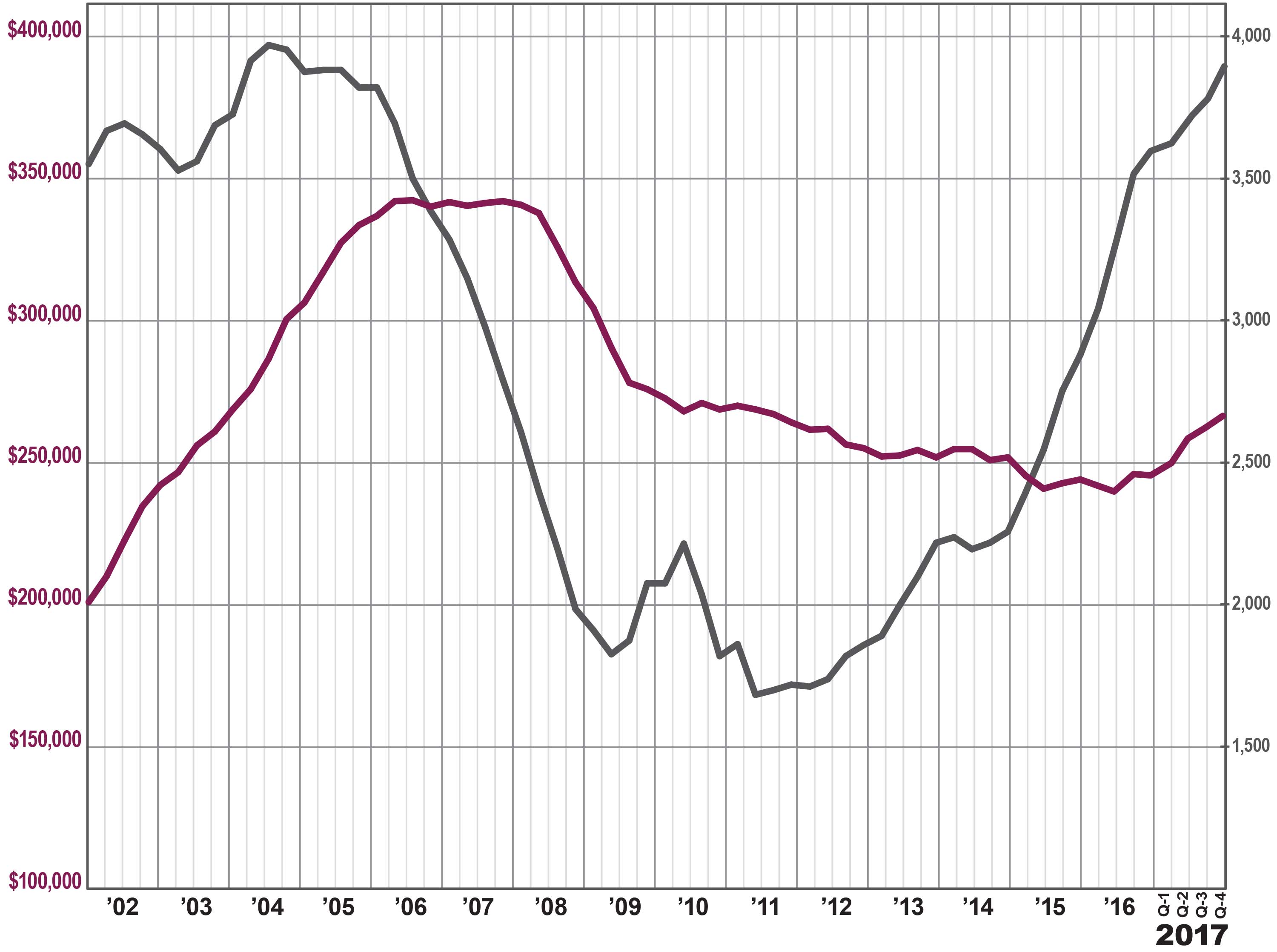 The Orange County housing market surged again in the fourth quarter of 2017, finishing a robust year with a flourish.
Sales. Orange sales spiked in the fourth quarter, rising almost 15%. Quarterly transactions have now gone up in 13 straight quarters and 22 out of the last 23. Similarly, sales were up almost 8% for the calendar year, marking the sixth straight year of increasing transactions. Indeed, the 3,837 calendar year sales was the highest yearly total since 2004, at the height of the last seller's market, and is more than double the sales totals from the bottom of the market in 2009.
Prices. These continued increases in buyer demand are finally having a sustained impact on pricing. Home prices rose again in the fourth quarter, up 3% on average, over 7% at the median, and almost 5% in the price‑per‑square‑foot. And for the first time in years, prices were up meaningfully for the calendar year, rising almost 5% on average, almost 6% at the median, and over 3% in the price‑per‑square‑foot. Price appreciation was a long time coming in Orange County, but it's finally here.
Negotiability. The available inventory continues to tighten, down almost 27% and now well below the six‑month level that signals a seller's market. Meanwhile, homes are selling more quickly and for closer to the asking price. Indeed, over the past year, the days‑on‑market average fell 23 days, and the listing retention rate rose over a full point.
Condos. The condo market absolutely exploded in the fourth quarter, continuing a welcome trend that we finally started to see this year. Sales were up a whopping 37% and prices spiked almost 13% on average and 14% at the median. For the year, sales were up almost 23% and prices were up sharply. This marked the first year where condo prices have gone up since 2007 ‑‑ over 10 years ago.
Going forward, we believe that the Orange County housing market is poised for a great year: demand is high, prices are still at attractive 2003‑04 levels, interest rates are at historic lows, and the economy is generally strong. With inventory continuing to decline, we expect to see significant sales growth and meaningful price appreciation throughout 2018.
To learn more about Better Homes and Gardens Real Estate Rand Realty, visit their website and Facebook page, and make sure to "Like" their page. You can also follow them on Twitter.