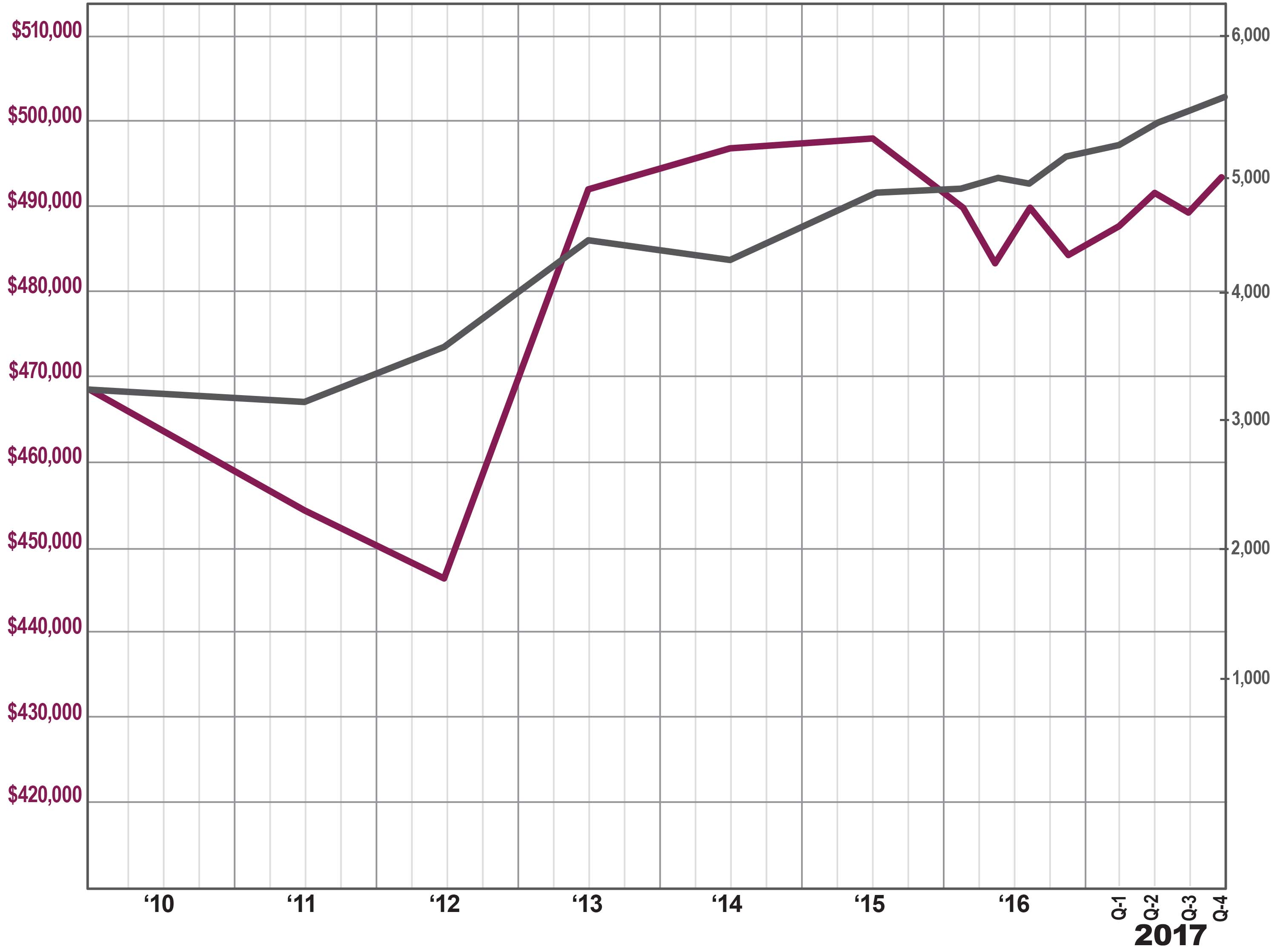 The Essex County housing finished 2017 strong, with solid increases in both sales and prices.
Sales. Essex sales activity was up again, rising almost 6% from the fourth quarter of last year. And for the full year, sales were up over 8%, hitting over 5,000 sales. This represented the largest yearly total since the height of the seller's market over 10 years ago, and an increase of almost 70% from the bottom of the market in 2011.
Prices. Essex also started to show some signs of meaningful price appreciation. For the quarter, the average price rose over 5% and the median was up over 4%. More importantly, we saw the first meaningful yearly price appreciation in years, with the average and median both up about 2%. With inventory continuing to fall and buyer demand relatively strong, we would expect prices to gain some momentum throughout 2018.
Inventory. Essex inventory fell again, dropping over 41% from last year's fourth quarter and now down to just over four months' worth of available homes. We measure "months of inventory" by calculating the number of months it would take to sell all the available homes at the current rate of absorption, and generally consider anything below six months to signal a seller's market that would normally drive prices up. So, the fact that Essex is now well below six months would tend to indicate more price appreciation in 2018.
Negotiability. The negotiability indicators – the amount of time sold homes were on the market, and the rate at which sellers were able to retain their full asking price – suggested the sellers might be gaining significant negotiating leverage. Most notably, the listing retention rate crossed the 100% threshold for the third quarter in a row, meaning that Essex homes on average are selling for higher than the listed price. Similarly, the days‑on‑market fell about 11%, and is now down to well under four months of market time. Those are both positive signals of potential future appreciation.
Going forward, we expect that Essex County's sales activity will continue to drive meaningful price appreciation. With homes still at historically affordable prices, interest rates low, and a generally improving economy, we believe that low inventory levels coupled with stable buyer demand will drive a strong market throughout 2018.
To learn more about Better Homes and Gardens Real Estate Rand Realty, visit their website and Facebook page, and make sure to "Like" their page. You can also follow them on Twitter.