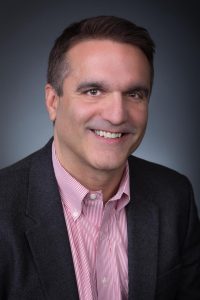 RISMedia, publisher of Real Estate magazine, will honor Better Homes and Gardens Rand Realty General Manager and Chief Creative Officer Joseph Rand as a 2018 Real Estate Newsmaker during an awards ceremony to be held on May 17 at the National Press Club in Washington, D.C., in conjunction with the National Association of REALTORS® Legislative Meetings & Trade Expo taking place that week.
RISMedia's first annual Real Estate Newsmaker Awards are designed to recognize those individuals making headlines for their newsworthy contributions to the real estate industry. Designed specifically for a select group of more than 100 broker/owners, brand executives and real estate service leaders, the Real Estate Newsmaker Awards Reception & Dinner is an invitation-only event.
According to RISMedia President and CEO John Featherston, "RISMedia's Real Estate Newsmaker Awards will honor the industry's real newsmakers: the people who are positively affecting our industry and the millions of consumers we serve. Our industry promotes and provides consumers with a pathway to responsible homeownership. Over the past three plus decades, RISMedia has covered, chronicled and celebrated the professionals making news in real estate, and we are honored to be formalizing these honors starting with the first-annual RISMedia Real Estate Newsmaker Awards."
"I'm thankful to John Featherston and everyone at RISMedia for this amazing honor, and humbled to be in the company of some of the best and smartest people in our industry," said Rand.  "The real estate business is always changing, but they have shown us all how to navigate through those challenges and thrive in any kind of market."
Rand's recently published book, 'Disruptors, Discounters, and Doubters: Five Key Changes the Real Estate Industry Can Make to Improve Client Experiences and Protect Our Future' reflects how the industry must embrace change in order to meet the demands of today's empowered consumer. "Not only is Joe a leading brokerage operator, he is a constant challenger to the standard way of approaching the business," said Featherston. "We are honored to present Joe with a 2018 Real Estate Newsmaker Award in recognition of his increasingly significant role as an industry thought leader and influencer."
Earlier on May 17, RISMedia will be hosting its annual Power Broker Forum discussion panel during the REALTORS® Legislative Meetings & Trade Expo. The Forum, "Adapt, Compete, Win: How to Wow Customers—and Agents—in a Changing Real Estate World," will take place from 10:30-11:30 a.m. in the Virginia Suite at the Marriott Wardman Park hotel in Washington, D.C. The Forum is open to all full and day NAR Conference attendees.
About Better Homes and Gardens Rand Realty
Better Homes and Gardens Rand Realty, founded in 1984, is the No. 1 real estate brokerage firm in the Greater Hudson Valley, with 28 offices serving Westchester, Rockland, Orange, Putnam, and Dutchess Counties in New York, as well as Bergen, Passaic, and Morris Counties in New Jersey.
Better Homes and Gardens Rand Realty has over 900 residential real estate sales associates, as well as a commercial real estate company (Rand Commercial) and the Hudson United Group, which provides residential mortgage lending, title services, and commercial and residential insurance.
These companies can be found online at www.RandRealty.com, www.RandCommercial.com, and www.HudsonUnited.com. Better Homes and Gardens Rand Realty can also be found and interacted with on Facebook, Twitter, Pinterest, and Instagram.
About RISMedia
RISMedia was founded in 1980 by CEO and Publisher John E. Featherston as the residential real estate industry's definitive source for news and information for real estate's most profitable and productive professionals. For over 35 years, RISMedia has provided the industry with news, trends, and strategies through Real Estate magazine and RISMedia.com, its blog, Housecall, and its renowned networking and educational events, including RISMedia's Real Estate CEO Exchange; the Real Estate Newsmakers Awards, Reception & Dinner; and the Power Broker Forum, Reception & Dinner.