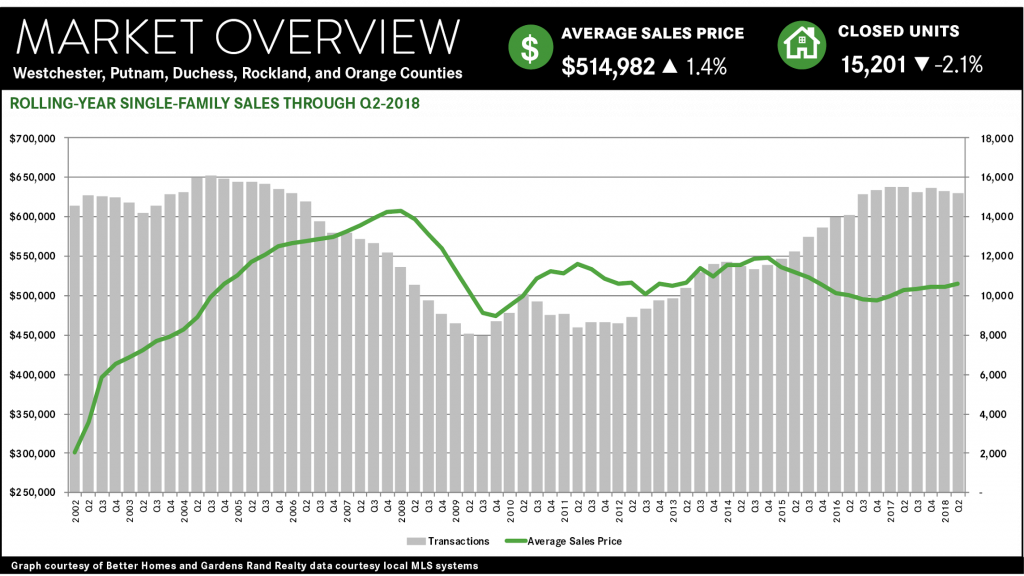 The regional housing market in the New York City northern suburbs surged again in the second quarter of 2018, with high demand and low supply driving prices up throughout the area.
We are clearly in a "seller's market." The main story in the market right now is a textbook illustration of basic economic principles: when demand is high, and supply is low, prices go up. This is essentially what a seller's market looks like, with low levels of inventory coupled with high demand holding sales down while driving prices up. And that's exactly what we're seeing throughout the region:
Sales are down. Regional single‑family home sales in the quarter fell almost 3%, and condo sales fell 7%, continuing a trend we've been watching for the past year ‑‑ indeed, the rolling-year sales were down about 2% for all property types. To put this in perspective, rolling-year sales had gone up in 24 out of the last 25 quarters prior to the first quarter of this year. And the decline is universal, with single‑family sales down in virtually every county in the region: falling almost 5% in Westchester, 4% in Putnam, and 10% in Rockland (sales rose slightly in Orange and Dutchess).
Prices are up. But all this demand, coupled with a lack of supply, is having its expected impact on pricing. Single‑family average prices were up across the board, rising over 3% for the region and up in every county in the region: up over 2% in Westchester, almost 3% in Putnam, over 8% in Rockland, almost 11% in Orange, and over 10% in Dutchess. And for the first time in over 10 years, single‑family average prices for the rolling year were up in every county in the region.
Inventory is low, but is starting to rise. The key to this market, of course, is the amount of available supply: the number of homes for sale in the market. Inventory has been falling for several years now, holding back sales and driving prices up. But that same economics textbook teaches us that as prices go up, eventually supply starts to rise. Why? Because rising prices attract sellers into the market.
And that is exactly what we're starting to see: stabilizing inventory. Inventory is still low, but it's starting to settle at about the six‑month level that signals a balanced market. Indeed, the months of inventory in the region was at 6.2 months, flat compared to the second quarter of last year. And inventory was actually up in both Westchester and Rockland. It might be too early to call a shift in the market, but this was a noticeable change after several years of sharp inventory declines quarter after quarter.
Going forward, we expect the market to continue to grow through 2018. The seller's market is really just starting to hit its stride, where high demand meets higher supply and pushes both sales and prices up over last year. Higher prices might be tempting more sellers into the market, but we believe that demand is strong enough to accommodate this supply, and drive price appreciation through the end of the year.
To learn more about Better Homes and Gardens Real Estate Rand Realty, visit their website and Facebook page, and make sure to "Like" their page. You can also follow them on Twitter, Pinterest, and Instagram.