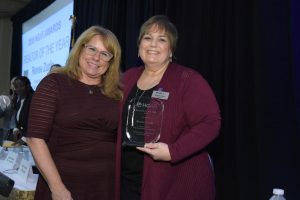 Congratulations to Renee Zurlo, Orange County Regional Manager, named "Realtor of the Year" by the Hudson Gateway Association of Realtors (HGAR) – and to Richard Herska, Real Estate Salesperson, Nyack office, who received HGAR's "Up and Coming Award," selected out of a pool of 15,000 other local realtors. Renee and Rich were honored in front of a crowd of 1,500 members and affiliates who were in attendance for the 102nd Annual Meeting and Member's Day of The Hudson Gateway Association of Realtors (HGAR). The event took place at the Doubletree Hotel in Tarrytown on Monday, October 29.
Renee has been a REALTOR® for over 24 years and has been with Better Homes and Gardens Rand Realty for nine years. She has served as president of the Hudson Gateway Multiple Listing Service since 2016 and will continue to serve as president into 2019, when a newly formed MLS—a merger between the Multiple Listing Service of Long Island, Inc. (MLSLI) and Hudson Gateway Multiple Listing Service, is fully operational.
On receiving the honor of the HGAR Realtor of Year award, Renee said: "This award represents my many years of involvement in the real estate industry, building relationships and being able to give back to an industry that has given me so much. Throughout my career I have turned to many people for guidance, and I share this honor with them," she added.
"Renee has truly earned the title of Realtor of Year with her exceptional talent, experience, skill and results," said Matt Rand.
Says Marsha Rand, president of Better Homes and Gardens Rand Realty, "Renee has been a huge asset to the Better Homes and Gardens Rand Realty team. She is a real team player and loves to share her knowledge with others. There is no one more deserving of this award."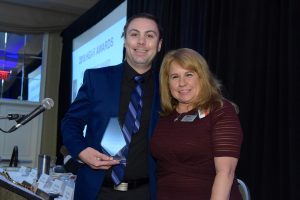 Rich has been a REALTOR® with Better Homes and Gardens Rand Realty for three years and is also an active member of the HGAR Board of Directors. He says that combining his two passions – interior design and real estate – has been "a perfect fit" and has helped to propel his career forward at Better Homes and Garden Rand Realty.
"I am both honored and humbled to receive this award," he said. "This confirms that hard work, dedication and patience yields positive acknowledgment. I look forward to a long future in real estate and with the Rand Realty family."
"Rich has accomplished so much at Rand Realty in the past few years," said Marsha Rand. "His eye for design is impeccable, and he gives his all to every client. He is on his way to the top!"
According to Matt Rand, "Richard's Up and Coming Award is well deserved. He is one of our rising stars and we so appreciate the interior design expertise he brings to our clients."
"We are extremely proud of both award winners!"
To learn more about Better Homes and Gardens Real Estate Rand Realty, visit their website and Facebook page, and make sure to "Like" their page. You can also follow them on Twitter, Pinterest, and Instagram.