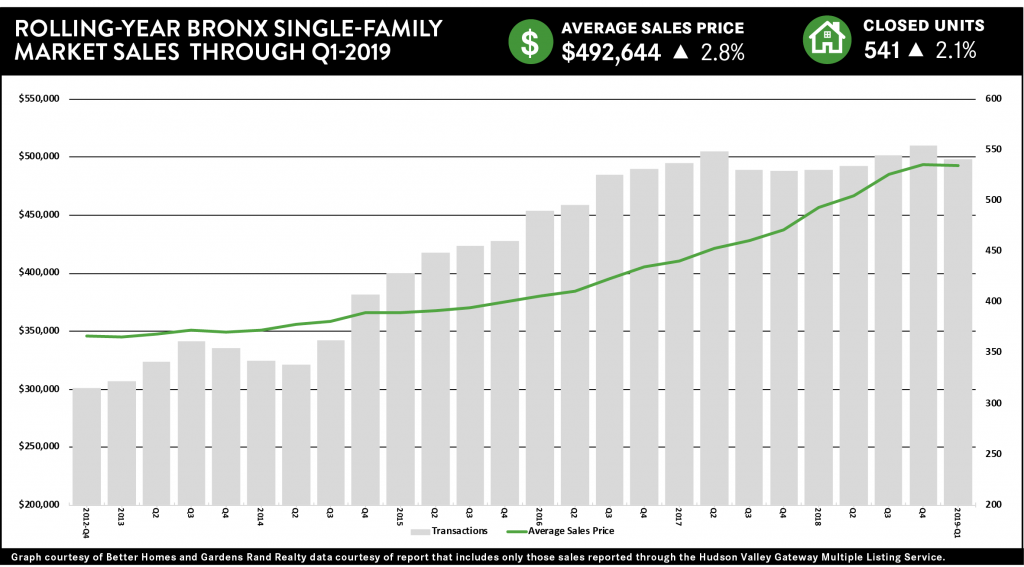 The Bronx housing market stumbled in the first quarter of 2019, slowing after torrid growth throughout most of 2018.  Sales were down sharply for most property types, and prices were mixed. Going forward, we will be watching to see if this trend continues in the traditionally robust spring market, but believe that the fundamentals of the market are still very strong.
Prices were mixed, depending on property type.  The average price was up just a little more than 1% for the quarter overall, but that masked a real divergence based on property type, with condos and single-family homes down, but multi-family and coops up.  Even with the market slowing in the first quarter, though, the rolling year numbers were very strong, with the average price up almost 11% overall, and up in every property type: rising 3% for single-family homes, 10% for multi-family, 5% for coops, and 13% for condos.
But sales were down in almost all property types.  Overall, sales were down 11% compared to last year's first quarter, falling for most property types: down 10% for single-family homes, 20% in multi-families, and 18% for condos. Quarterly sales were only up for coops, rising 4%.  And now, for the first time in years, we're seeing sales down for the full rolling year, dropping almost 4% overall.
So why did the market slow in the first quarter? It might just be a short-term "breather" after the torrid pace over the past few years; the market has simply exploded over the past few years, and could not keep that up forever. Indeed, the Bronx might be feeling the effects of a much more severe slowdown in the Manhattan market, which is experiencing its first major correction in years. And we might also be seeing the impact of the 2018 Tax Reform cap on state and local tax deductions, which has had a modest but meaningful effect of suppressing sales growth and price appreciation in higher-end markets throughout the region.
Going forward, though, we believe that Bronx sellers and homeowners have reason to be optimistic about where the market is going. The fundamentals are very strong: the economy is growing, inventory is still low, interest rates are near historic lows, and demand is high. We expect that, even with the challenges of the Manhattan slowdown and the tax cap, the Bronx market will grow in the traditionally robust spring market, with both sales growth and price appreciation.
Editor's Note: This report includes only those sales reported through the Hudson Valley Gateway Multiple Listing Service.
To learn more about Better Homes and Gardens Real Estate Rand Realty, visit their website and Facebook page, and make sure to "Like" their page. You can also follow them on Twitter, Pinterest, and Instagram.