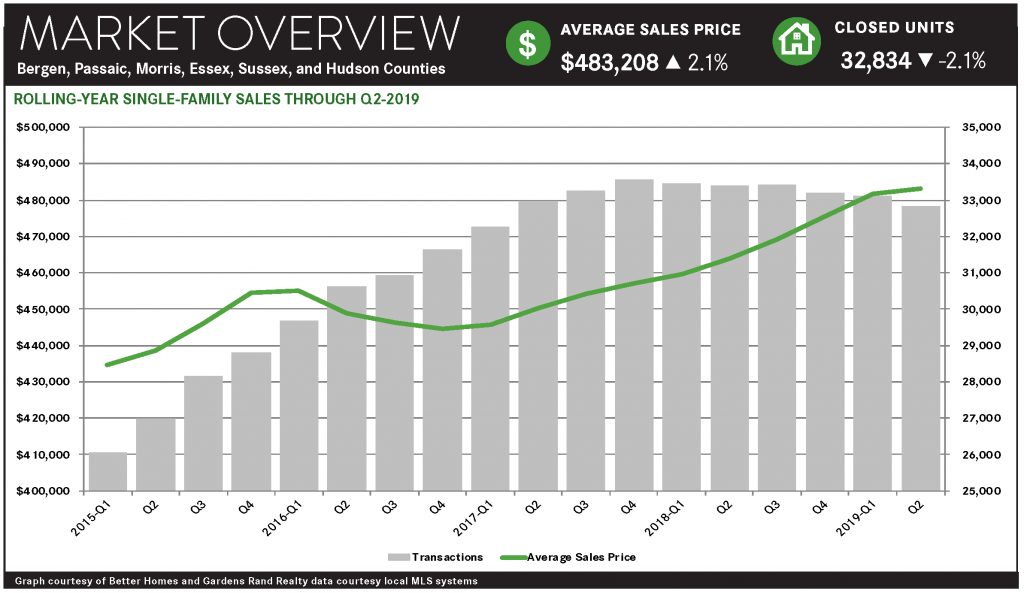 Sales growth in the Northern New Jersey housing market was suppressed by both a continued lack of inventory and the impact of the 2018 Tax Reform SALT Cap, but we did see modest but meaningful price appreciation in many county-wide markets. We believe that the market is still poised for both sales and price growth in what will be a strong summer and fall market.
Regional sales were down slightly, but the results varied by county. Regional single‑family sales fell about 3% for the quarter, finishing a rolling year in which they were down a little over 2%. But that cumulative number masked a real divergence in the county results. For example, sales were down in Bergen, Hudson, Passaic, Morris, and Sussex, but up for Bergen condos and Essex.
Similarly, prices were up a tick regionally, but results varied sharply depending on the county. For the region, the average price was up 1.2% for the quarter, finishing a rolling year where they rose by 2.1%. But, again, those cumulative regional results do not really tell the story, since pricing compared to last year's second quarter varied dramatically by county: prices were up in Hudson, Passaic, and Essex, but down in Bergen, Morris, and Sussex. The rolling year pricing was a little more positive, with most markets showing longer‑term appreciation.
We still believe that this market is poised for significant growth. The sluggishness in sales is not due to a lack of inherent demand, but is being cause by two factors: first, a lack of inventory, which is ticking up but remains at relatively historic lows; and second, the 2018 Tax Reform cap on state and local taxes ("SALT Cap"), which is impacting buyers who usually itemize their taxes and are skittish of extending themselves. We think that both issues will ease up as homeowners tempted by rising pricing put their homes up for sale, and the SALT Cap gets priced into the market.
Going forward, we think that both sales and prices will go up by the end of the year. We expect the impact of the SALT Cap to get priced into the market, because otherwise the seller market fundamentals are very strong: the economy is growing, interest rates are near historic lows, inventory is relatively low, and homes are still priced well below their highs. Accordingly, we expect a relatively robust spring market throughout the region.