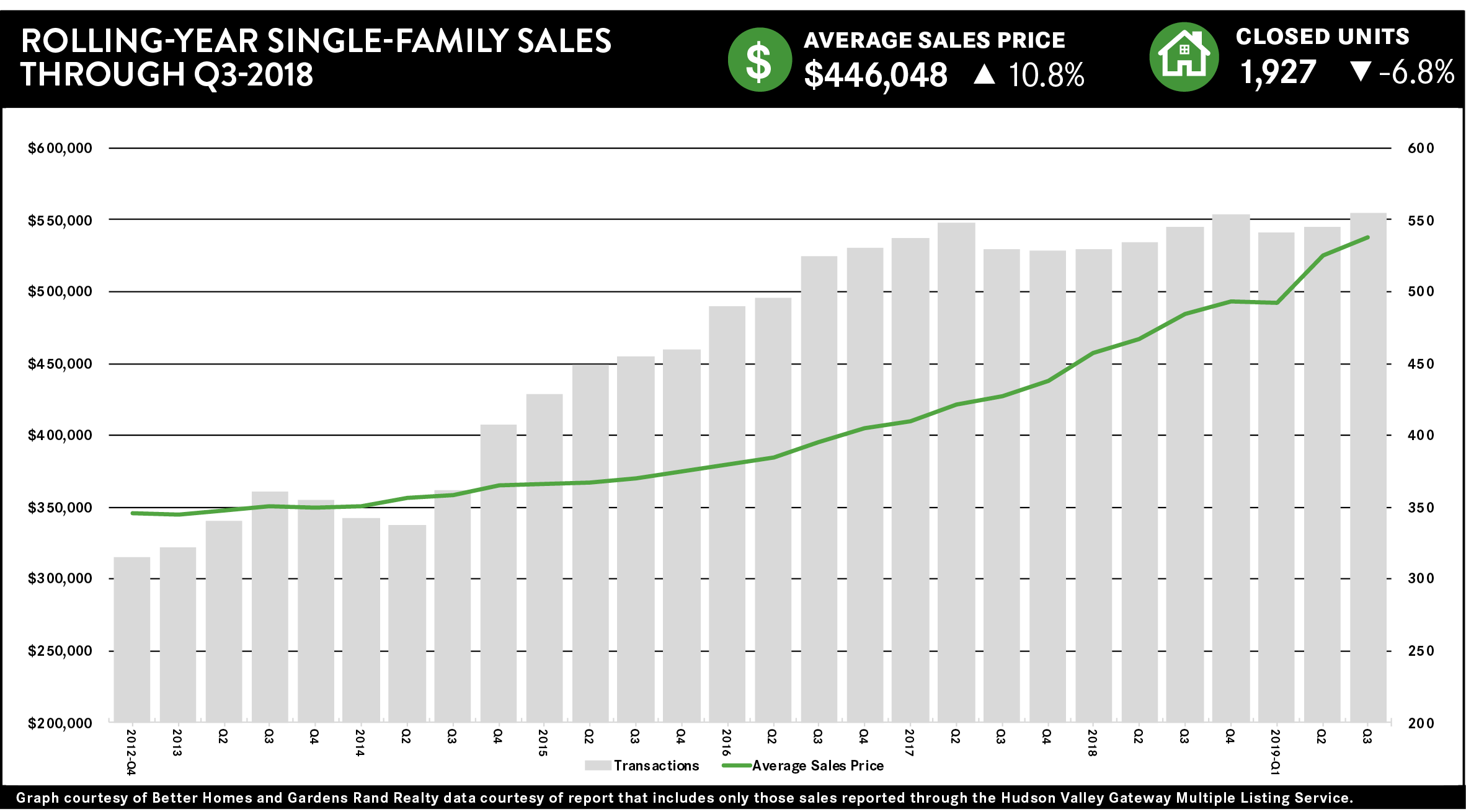 Pricing in the Bronx housing market surged again in the third quarter of 2019, as robust demand continued to push prices up even while a lack of inventory held sales down. Going forward, we believe that the fundamentals are strong, and expect a robust market through the winter and into 2020.
Pricing. Overall pricing was up over 6% compared to the third quarter of last year, and up for most property types: rising almost 10% for single‑family homes, 5% for multi‑families, and 4% for coops. The exception was pricing for condos, which fell about 7% for the quarter. For the rolling year, though, average prices were up for all property types, rising 11% for single‑families, 6% for multi‑families, 3% for coops, and almost 10% for condos. Demand in the Bronx is strong, which continues to push prices up.
Sales. Sales were more mixed, falling almost 7% compared to last year's third quarter and now down almost 7% for the rolling year. Sales varied depending on property type: rising slightly for condos and single‑family homes but down sharply for multi‑families and coops. We believe that a lack of inventory is stifling sales throughout the borough: simply put, the Bronx lacks "fuel for the fire" to meet the demand for housing. That demand, coupled with low levels of inventory, is what is driving pricing up.
Inventory. The inventory challenges, though, might be easing. Inventory was up for all property types, probably because homeowners are attracted to the rising prices. Inventory is still in the 5‑6 month range for most property types, a level that usually indicates a seller's market, but it's definitely opening up a bit. That might start to push sales up in the fourth quarter.
Negotiability. The negotiability indicators – the listing retention rate and the average days‑on‑market – indicate that sellers are continuing to gain negotiating leverage with sellers. The listing retention rate was a little mixed, but the days on market were down for all property types, indicating that homes are selling more quickly – a clear sign of a growing seller's market.
Outlook. Going forward, we believe that Bronx sellers and homeowners have reason to be optimistic about where the market is going. The fundamentals are very strong: the economy is growing, inventory is still low, interest rates are near historic lows, and demand is strong. We expect that, even with the challenges of a slowdown in Manhattan, the Bronx market will continue to see price appreciation and maybe even some sales growth through the winter and into 2020.