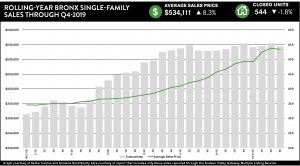 The Bronx housing market slowed down just a bit in the fourth quarter of 2019,  with sales falling slightly and prices topping out after a robust run-up for most of the year. We believe that, like other high-priced markets throughout the region, the Bronx might be feeling the impact of the 2018 Tax Reform's Cap on State and Local Taxes (i.e., the "SALT Cap"), particularly in the higher end of the market. Even with the suppressive effects of the SALT Cap, though, we believe that the housing fundamentals are strong, and expect a relatively robust 2020.
Pricing. Overall pricing was down slightly compared to the fourth quarter of last year, falling more than 1%. The individual property types were mixed: average prices were down 3% for single-family homes, up almost 2% for multi-families, down 2% for coops, and down 20% for condos. We caution not to read too much into the condo number since the Bronx condo market is a relatively thin slice of data. For the year, though, pricing was up 5% overall, and up for all property types other than condos.
Sales. Sales were down slightly, falling over 2% from last year's fourth quarter and finishing the year down almost 6%. Previously, we have attributed slow sales to a lack of inventory, which has stifled sales growth by denying the Bronx enough "fuel for the fire."  But the Bronx market might also be hurt by the SALT Cap, which particularly impacts buyers in higher price ranges, who are more likely to itemize their taxes. And while some micro-markets in the Bronx are probably not affected, we note that the average price overall in the borough is about $500,000, which is about where home buyers are more likely to feel the pinch of the SALT Cap limitations on property and state income tax deductibility.
Inventory. Inventory was generally up, rising for all property types and down only slightly for condos. Inventory is still in the 5-6 month range for most property types, a level that usually indicates a seller's market, but it's definitely opening up a bit. That might start to push sales up in 2020.
Outlook. Going forward, we believe that Bronx sellers and homeowners continue to have reason to be optimistic about where the market is going. The fundamentals are very strong: the economy is growing, inventory is still low, interest rates are near historic lows, and demand is strong. We expect that even with the challenges of a slowdown in Manhattan and the pinch of the SALT Cap, the Bronx market will continue to see price appreciation and sales growth through the winter and the spring markets.