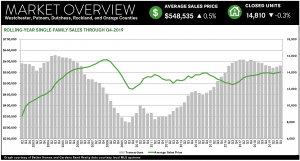 The housing market in Westchester and the Hudson Valley closed the year with a flourish, with regional sales and prices up modestly but meaningfully. The market overall continued to show signs of recovery from the suppressive effects of the 2018 Tax Reform's Cap on State and Local Taxes (i.e., the "SALT Cap"). Although we are still seeing more demand in the lower-priced than upper-priced markets, the overall trend suggests continued growth in 2020.
Single-family sales were up regionally and in most of the individual counties. Regional sales rose 2.8%, only the second quarterly increase since the end of 2017 and the inception of the SALT Cap. For the 2019 calendar year, sales were down just a tick, but they picked up steam in the third and fourth quarter, after a weak start to the year. Within the individual counties, quarterly sales were mixed, tending to rise more in the higher-priced counties. Why? Because they were the hardest hit in 2018 by the inception of the SALT Cap, so their 2018 baseline numbers were suppressed more than in the lower-priced counties. As the SALT Cap continues to get priced into the market, we expect that sales will rise throughout the region in the spring.
Similarly, single-family prices were generally up across the region, reflecting some rising strength in the high-end. Regionally, the average price rose 2.8% from last year's fourth quarter, following a similar increase in the third quarter. Most importantly, Westchester seemed to be recovering from the impact of the SALT Cap, with average prices up almost 3% for the quarter. Indeed, we might be seeing a long-awaited recovery in the high-end Westchester market: sales of super-luxury $3M+ homes rose 37% from last year's fourth quarter. Westchester pricing tends to drive the rest of the market, so this was a welcome increase for all regional homeowners and sellers.
Inventory was still low, but rising. The lack of inventory throughout the region has held back sales growth, with most counties and property types well below the six-months of inventory level that signifies a balanced market. Inventory was still relatively low as the year ended but was trending up in just about every county market and property type. It might be that sellers are seeing prices go up, and are getting tempted into the market.
Going forward, we believe that the market is poised for a relatively robust 2020. Housing fundamentals are all positive: prices are still at attractive levels compared to the last seller's market, interest rates are back down to historic lows, the economy is solid, and inventory might be loosening up. Accordingly, we believe that demand will continue to grow and that as the lingering effects of the SALT Cap dissipate, we will see more widespread price appreciation going into the spring market.