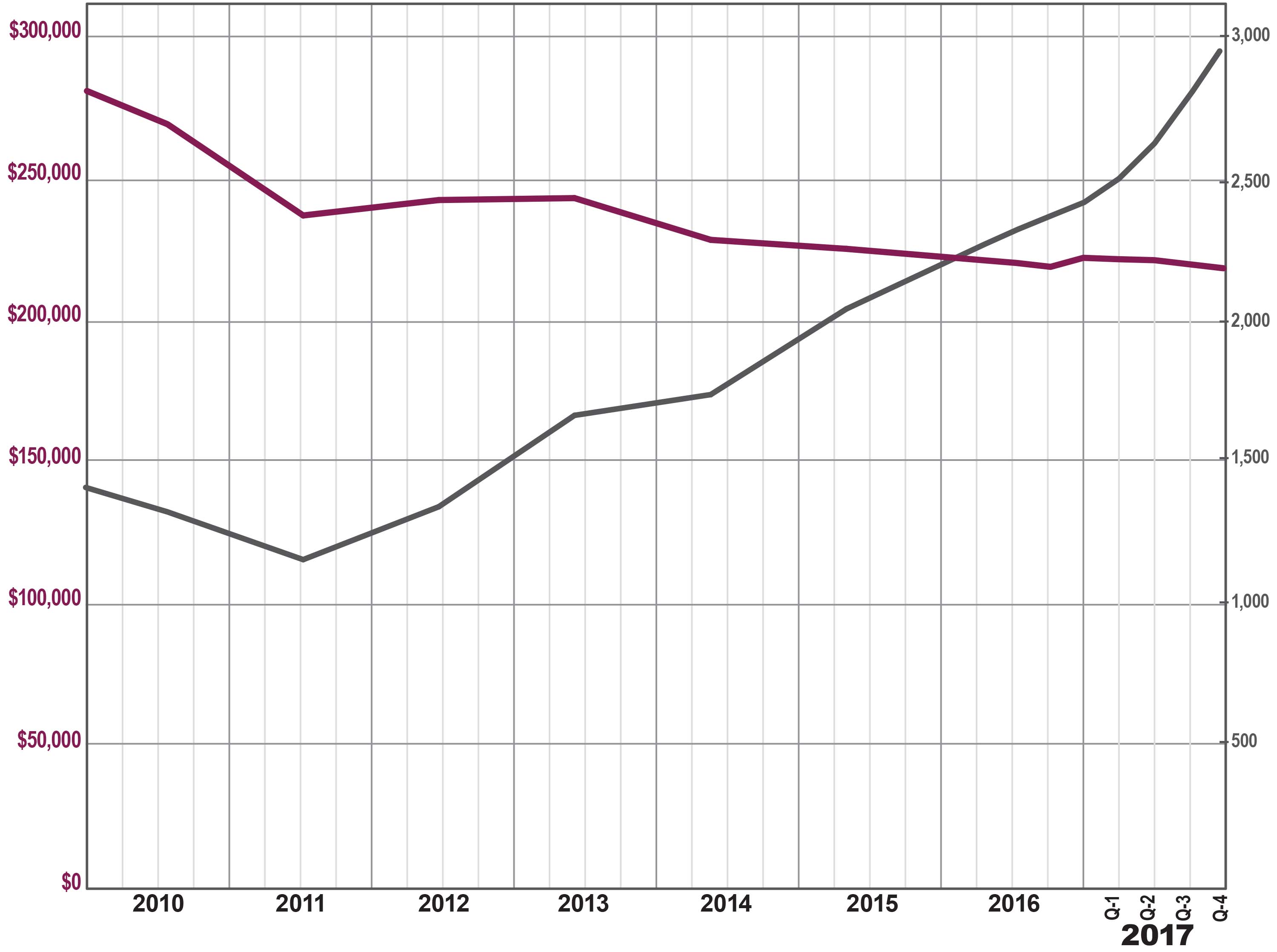 Activity in the Sussex County housing market surged yet again in the fourth quarter of 2017, with sales up sharply even while prices continued to struggle.
Sales. Sussex sales were up yet again in the fourth quarter, rising over 18% from last year and now up over 22% for the year. And the 2,348 sales for the year represented the highest calendar year total in over 10 years. Indeed, Sussex sales have now more than doubled from the bottom of the market in 2011.
Prices. Even with these sustained increases in buyer demand, though, prices continued to struggle. Average prices were down every quarter in 2017 compared to the prior year quarter, falling 2% in the first, 2% in the second, 3% in the third, and now 3% in the fourth. Accordingly, the yearlong price trend was negative, down 2.5% on average and almost 5% at the median. We remain baffled by this, since rising sales and declining inventory would normally drive prices up, not down. But we've now seen this trend develop for over a year, so we are skeptical, if hopeful, that prices will turn around in the spring market.
Inventory. The Sussex inventory of available homes for sale fell again, dropping over 35% and now down to about seven months. That's a significant decline, but inventory is still higher than in other Northern New Jersey counties, which are all below the six‑month inventory line that usually signals the beginning of a seller's market. If inventory continues to go down, we would expect that to put some additional upward pressure on pricing.
Negotiability. The negotiability metrics indicated that sellers were gaining negotiating leverage with buyers. For the year, the days‑on‑market fell by 14%, dropping by about a month, and sellers were retaining a lot more of their asking price, with listing retention jumping almost two percentage points and now up to over 96%.
Going forward, we expect that Sussex is going to continue to see rising sales. The question is whether this will finally drive some meaningful price appreciation, or at least stem the decline we saw this year. But we remain hopeful that an improving economy, attractive pricing, and near‑historically‑low interest rates will eventually drive prices up in 2018.
To learn more about Better Homes and Gardens Real Estate Rand Realty, visit their website and Facebook page, and make sure to "Like" their page. You can also follow them on Twitter.