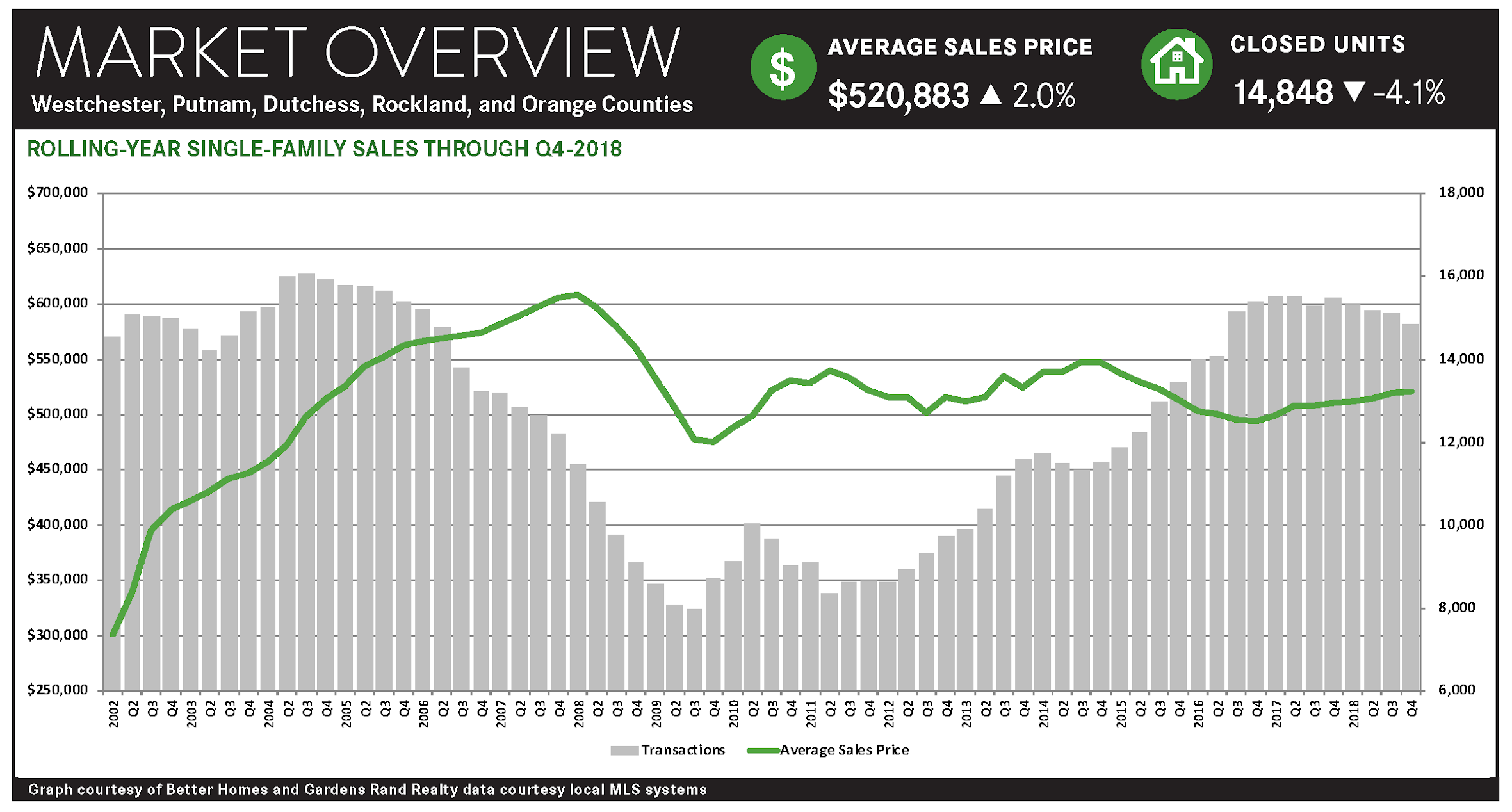 Sales in Westchester and the Hudson Valley housing markets were down throughout the region, even while high buyer demand, coupled with low levels of inventory, drove meaningful price appreciation in most of the regional markets.
Sales were down throughout the region. Regional transactions fell across the board in the fourth quarter, dropping almost 7% for single‑family homes and 5% for condos. We saw the same story for the full 2018 year, with sales down over 4% for single‑family homes and about 1% for condos. To put these numbers in perspective, though, we closed almost 15,000 single‑family homes and almost 3,000 condos in 2018, up from about 9,000 single‑family homes and 2,000 condos back at the bottom of the market 10 years ago. So we've had a pretty good run‑up of sales in the past 10 years and were due to plateau at some point.
Prices were up in most of the markets of the region, particularly in the lower‑priced market segments.
Essentially, we had a "tale of two markets" developing in the region, with pricing flat only for the highest‑priced property type in the region – Westchester single‑family homes – even while average prices were up for every other county in the region for the year: up 6% in Putnam, 5% in Rockland, 9% in Orange, and 10% in Dutchess. And full‑year pricing in the entry‑level condo and coop markets was up in every market: rising 6% for Westchester coops, with condos up 0.1% in Westchester, 15% in Putnam, 1% in Rockland, 12% in Orange, and 7% in Dutchess.
So what was holding back pricing for Westchester single‑family homes? We might be seeing the effects of the 2018 Tax Reform, which capped deductions for state and local taxes, and could be having a disproportionate impact on high‑end buyers in high‑property‑tax Westchester. Unlike buyers in the entry‑level condo and coop market, or in the lower‑priced counties, Westchester luxury buyers are more likely to itemize their taxes, so they might be feeling the bite of the cap more acutely. This could be reducing demand at the higher‑ends of the market, suppressing the price appreciation we are seeing in the rest of the region.
Going forward, we believe that the market is still poised for growth. Sales are falling mostly due to a lack of supply, not a lack of demand. Essentially, the market needs more "fuel for the fire" – more viable inventory for the buyers who are looking. And that might be happening: regional single‑family home inventory was up almost 10% from last year, rising for the second quarter in a row after 25 straight quarters of year‑on‑year declines. This makes some economic sense, of course, since we would expect that sustained price appreciation over a period of time should tempt more homeowners into the market. The question is whether buyer demand is strong enough to continue driving price appreciation, even while absorbing this increased inventory. Ultimately, we believe that the region is still growing as a seller's market, which should allow for both increases in sales and prices in what will be a robust spring market.
To learn more about Better Homes and Gardens Real Estate Rand Realty, visit their website and Facebook page, and make sure to "Like" their page. You can also follow them on Twitter, Pinterest, and Instagram.
Posted on January 21, 2019 at 3:52 pm
Vincent Abbatecola
Category:
Rand Country Blog
Tagged

2018 Fourth Quarter Market Report, Better Homes and Gardens Rand Realty, Better Homes and Gardens Real Estate® - Rand Realty, Dutchess County NY, Hudson Valley, Lower Hudson Valley, New York, Orange County NY, Putnam County NY, Rockland County NY, Westchester County NY